Kačina Chateau
On the plains of the Elbe River north-east of Kutná Hora stands Kačina Chateau, surrounded by an extensive park, which is one of the most significant buildings of Empire architecture in Bohemia. Jan Rudolf Chotek, the then supreme bur grave of the Kingdom of Bohemia and president of the governorate, had this chateau built in 1806 – 1824 as his representative architectural work. Visitors can now select from three tour circuits of this chateau. A tour of the chateau's interiors will give you the opportunity to get acquainted with the history of the Chotek family, but you can also learn more about culinary history or changes to the Bohemian and Moravian countryside throughout the centuries. During a walk through the park you can admire Kačina Chateau's architectural beauty and elegance through ingenious apertures. The pleasant setting of the chateau's cafe, where you have the opportunity to taste selected desserts and hot chocolate, is an ideal place for you to absorb the impressions gained during your visit. Picnic baskets await lovers of romance, with secluded places in the chateau's park giving you the ideal opportunity to spend some undisturbed moments. But lovers of culture are also well catered for, with the chateau's theatre hosting period plays from the life of Count Chotek during the summer season.

There is also a haptic exhibition, which is not just for the blind and visually impaired.
Building is wheelchair accessible – ground floor, with parking close to the complex or inside the complex itself (upon agreement).
Contact:
Zámek Kačina / Kačina Chateau
Svatý Mikuláš 51, 284 01 Kutná Hora
Tel.: +420 327 571 170
E-mail: nzm.kacina@nzm
cz
Web: http://nzm.cz/kacina/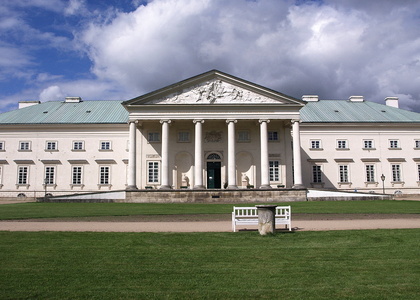 Home
»
Destinace
»
Region
»
Tourist destinations
»
Kačina Chateau