Lookout Tower Vysoká
Not farfrom Kutná Hora is Vysoká Hill, rising to 471 metres above sea level,which is a remnant of ancient volcanic activity. Count František Antonín Špork had the pilgrimage chapel of St John the Baptist built on a dominant place on the top of the hill in 1697 – 1698, and arranged for several Paulan monksfrom his estatein Lysé nad Labem to live there. The other owners of theMalešov estate stopped taking care of the structure and the fire that struck the chapel on 30 April 1834 completed its destruction. To date, the remains of the perimeter walls have been preserved up to the first floor and the nearby freely accessible cellars. A telecommunication tower combined with a lookout tower was built in 2001 near the ruins of the chapel. The lookout platform is located at a height of 25 metres and is reachable by 144 steps. This lookout offers excellent views in good visibility across the central and eastern Elbe region (Nymburk, Poděbrady, Pardubice, Hradec Králové, Elbe River), the Giant Mountains (Krkonoše) and Ještěd to the north, and the peaks of the Central Bohemian Uplands - Milešovka, Rip, Bezděz and Ralsko, to the north-west. The ridges of the Iron Mountains (Železné Hory), with the ruins of the Lichnice Castle, tower to the east and behind them the Chotěboř region, with a view of part of the Posázaví region opening up to the south. Your experience will be greatly enhanced if you bring a set of binoculars. The tower can be reached by car along a dirt road from the village of Mezholezy. If you want to combine a visit of the lookout tower with a hike, it is possible to start hiking from the hamlet of Vysoká or in Miskovice. In either case, the peak is about 1 km away.

Opening hours:
January-April: closed (only open by appointment for organised groups)
May-June: Saturday and Sunday – in good weather – 11 am – 5 pm
July-August: Tuesday-Sunday11 am – 6 pm (closed in inclement weather)
September-October: Saturday and Sunday – in good weather – 11 am – 4 pm
November-December: closed
To order a special visit, call +420 327 515 322.
Kontakt:
Obecní úřad Miskovice / Municipal office of Miskovice
Tel.: +420 327 515 322
Web: www.miskovice-kh.cz (zajímavá místa - Miskovice)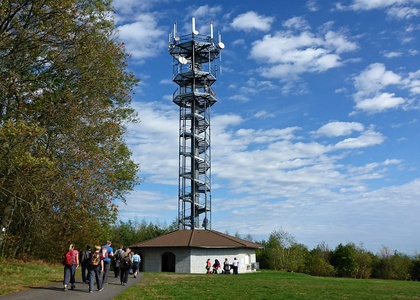 Home
»
Destinace
»
Region
»
Tourist destinations
»
Lookout Tower Vysoká