Guide Services
PRŮVODCOVSKÁ SLUŽBA KUTNÁ HORA, P. O.

is a city-owned company with twenty years of tradition, an associate member of the Czech Association of Tourist Guides and a full member of the Czech Association of Travel Agents. It operates "The Royal Mint" and "The Royal Palace" exhibitions held at the Italian Court, a thousand-year-old national cultural monument.
It provides tourist guide services in Czech, English, German, Russian, and French (and in Polish, Hungarian, Norwegian, Danish, Swedish, Spanish, or Italian, upon request). It provides these services in Kutná Hora as well as its surroundings, to where you will be taken in comfortable air-conditioned minibuses with video reception. You can visit sites such as the romantic, fairytale-like Kačina, Žleby, Zruč, and Světlá nad Sázavou chateaux, all with extensive parks where you can have a picnic, the Malešov Stronghold or the ruin of the Sion Castle, the spas of Poděbrady, the Jakub glassworks in Tasice, etc. You can also see live tigers at Ringeland in Habrkovice, the Hewer's Hut (Havířská bouda) lookout tower on the Kaňk Hill, the Kácov Distillery, the Hubertus Brewery and Brewery Pub in Kácov, which lies just off a 27-hole golf course, taste the local cuisine during a visit to the Chateau Kotěra Hotel in Ratboř near the city of Kolín, the Hubertus Hunting Hotel in Zbraslavice or the Agnes Hotel in Bohdaneč, go on sightseeing flights in a sports aircraft from the Zbraslavice Airport, take a boat trip along the Elbe River, go fishing in well-stocked fishing areas in Katlov, Bohdaneč or Ledeč nad Sázavou, take on a ride in a horse-drawn carriage at the Kladruby National Stud Farm – and enjoy it all as part of a fully-guided tour.
The tour guides also offer personalised service for the tourism industry (corporate as well as private clients). For example, why not try the themed tours of Kutná Hora: "The Royal Mint", "Experiencing the Right of Torture in Person", "Wine with a Royal Tradition", "In the Footsteps of Mr Mikuláš Dačický of Heslov", "Kutná Hora Stories and Legends", or "SHAMELESS Kutná Hora" in the accompaniment of characters dressed in medieval costumes: a nun, women of easy virtue and Mr Mikuláš Dačický, who will act out entertaining scenes during the tour from the sinful nightlife of this rich medieval town.
Contact:
Průvodcovská služba Kutná Hora, p. o.
Havlíčkovo náměstí 552/1, Kutná Hora
Tel.: +420 736 485 409
E-mail: berankova@pskh
cz
Web: www.pruvodcikutnahora.cz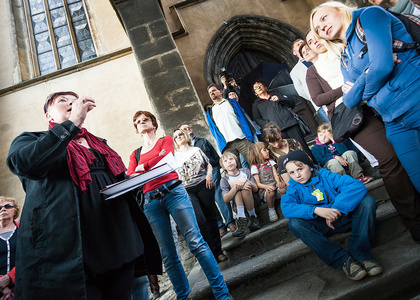 Home
»
Destinace
»
Accommodation & Services
»
Guide
»
Guide Services