Guide Services
PRŮVODCOVSKÁ SLUŽBA KUTNÁ HORA, P. O. (Guide service Kutná Hora)
It is the town's company with twenty years' tradition and an affiliated member of the Association of tourguides of the Czech republic. It operates expositions in the Italian court, a national cultural monument with a thousand years' history and at the moment runs a tour called "Royal palace". Visitors can therefore see a film presentation of the journey of silver, a show of medieval coin stamping, kings' audience hall and the royal chapel.
Tourguiding service of Kutná Hora, p.o. (further PSKH) provides tourguiding services in Czech, English, German, Russian, and French (upon request also in Polish, Hungarian, Norweigan, Danish, Swedish, Spanish or Italian) not only in the Italian court but also around all of Kutná Hora. It offers individual services for tourism, corporate or private clientele. Try out our themed tours "History walk", "Park walk", "Lady Filipa's treasure hunt" or choose from one of our assorted town tours on our website. Should you not find what you're looking for do not hesitate to contact us, and we will arrange a tour specifically for you according to your wishes and requests.
PSKH also offers tips for visiting Kutná Hora's surroundings, where we can take you by comfortable airconditioned minibuses. You can therefore visit romantic fairy tale castles of Kačina, Žleby, Zruč nad Sázavou, all with grand chateau parks and the possibility to have a picnic, the fortress of Malešov or the Sion castle ruin, Poděbrady spa, glass works Jakub in Tasice etc. You can see live tigers in Ringeland Habrkovice, lookout tower Havířská bouda in Kaňk, a distillery, Hubertus brewery, beer pub in Kácov right by a 27 hole golf course, or try local gastronomy while visiting the hotel Chateau Kotěra in Ratboř near Kolín, the hunting hotel Hubertus in Zbraslavice or hotel Agnes in Bohdaneč, check out sightseeing flights in a sports plane from the airport Zbraslavice, boat trips along the Labe river, fishing in well stocked districts of Katlov, Bohdaneč or Ledeč upon Sázava, a ride in a horse drawn carriage in Kladruby stud farm – and all the while have a great time with our tourguides' full service.
Contact:
Průvodcovská služba Kutná Hora, p. o.
Havlíčkovo náměstí 552/1, Kutná Hora
Tel.: +420 736 485 407
E-mail: vlasskydvur@pskh
cz
Web: www.pskh.cz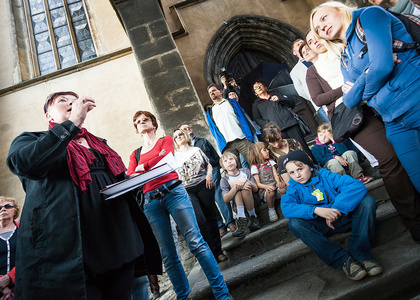 Home
»
Destinace
»
Accommodation & Services
»
Guide
»
Guide Services