Cycling trip through the picturescue Kutná Hora region
Take cycle trail number 0106 from the city's centre towards Poličany – Malešov.
In Malešov you will be fascinated by a reconstructed Gothic fortress. The first written record of the village dates back to 1303. The village was made famous mainly by the Hussite battle near Malešov in 1424. Today, visitors are reminded of this battle by a commemorative plaque erected in front of the former Dubina mill and a commemorative stone next to the road near the Prosík Pond (near the blue tourist sign). An important technical monument near the village of Malešov is the Vrchlice Water Reservoir from 1966-1970, which supplies drinking water to the city of Kutná Hora.
Remaining on the topic of history, you will depart Malešov in the direction of Chlístovice. Look for a right turn just before entering the village, which takes you to the ruins of Sion Castle. This castle's claim to fame is as the bastion of the last resistance of the Hussite movement. The surroundings of Sion Castle are ideal for a romantic walk through the valley of the Vrchlice Creek.
From Zion, continue to the village of Chlístovice along cycle trail number 0096, which will take you all the way to the village of Rápošov. Once here, you will cycle along road number 335 towards Pivnisko. Take cycle trail number 0121 from the village of Pivnisko until you reach the village of Žandov, where you can take a break and then head to the local lookout tower. Cycle trail number 0106 will lead you from Žandov via Roztěž, where you will come across a private chateau and a golf resort, back to Kutná Hora.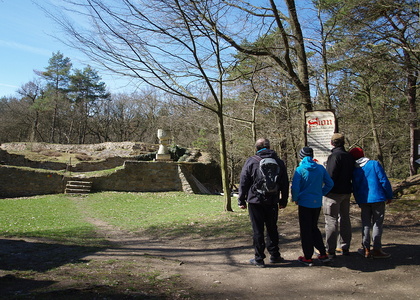 Home
»
Destinace
»
Sport & Relax
»
Tips for trips (on foot, by bike, by car)
»
Cycling trip through the picturescue Kutná Hora region